Laser Technology Inc. (LTI) offers a preventative maintenance contract called the Total Quality Program (TQP) for any of its Inspection Systems. It is designed to maintain machine performance and operator training through machine testing, scheduled parts replacement—if applicable, operator proficiency testing and training. In addition, the LTI Total Quality Program provides an annual report for management describing in detail machine performance issues, customer maintenance issues, operator proficiency tests and recommendations to maintain and improve the quality of your holography inspection program.
LTI will schedule and visit the specified machine location under this program for machine performance evaluation, preventive maintenance and operator proficiency testing and operator training. The frequency of these visits is contracted for by the customer in advance. Normally this is either one or two visits per year. Normal visits are scheduled at least 30 days in advance. A system engineer will call approximately one month prior to each TQP visit to confirm dates for the visit and discuss any system concerns. Also, any training that may be needed for the customer's personnel will be discussed and a specific agenda for the trip will be developed. All work under this program will be conducted weekdays during the customer's normal business hours. Any work required by the customer on weekends or holidays will carry an additional charge.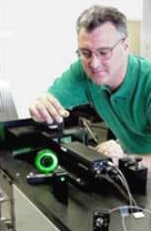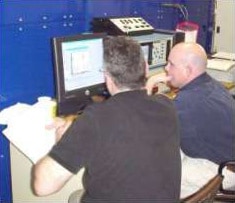 The program also provides for 30 hours of phone and fax support per year provided by LTI engineers. Any system problems or operator questions will be answered within 4 hours of receipt during the normal business week. The goal of the Total Quality Program is to eliminate the need for emergency services calls through preventative maintenance and training. If a service call is required, LTI will make one service call per year for each location contracted. All applicable system software updates that are developed will be provided, as well as all operation manual updates. Notification of any mechanical or system upgrades will be provided as they become available.
WORK PERFORMED DURING TQP VISITS
System Performance Evaluation
Upon arrival, the system engineer will perform a preliminary review of system operation and image quality. Images taken during each service visit will be saved to disk and left with the customer along with a copy of the trip report. The customers regular test standards can be used as a basis for machine performance evaluation.
Observation of Machine Operation
Observation of machine operation and review of system maintenance with appropriate personnel. Recommendations will be made on how to improve overall system operation and maintenance. These recommendations will be included in the report provided.
Inspection and cleaning of lasers and optics. Adjustment of camera optical components if necessary. Diagnostic monitoring of laser operation to manufacturers performance specifications. This may be able to detect the onset of potential laser problems. The system laser is not covered by this agreement with LTI, but is covered by the Coherent Inc. warranty for the first year of operation.
Includes the inspection, cleaning and checking of system mechanical components. Lubrication of bearing surfaces, wear points and replacement of air filters as applicable. Inspection and any necessary adjustment of the isolation table and its components.
Mechanical, Electrical & Electronic Components
Visual inspection of all system electrical connectors and repair as required. Contact cleaning and visual inspection of all circuit boards as necessary. Functional check of all electromechanical system components IE: motion control system, motors, video lenses, solenoids, switches etc. Functional check of all electronic components, image processor cards, power supplies, stepper motors and servo drivers as applicable.
Additional training can be provided on specific topics as selected in advance by the customer. This Supplemental Training can be for new operators or as a topical review for experienced operators. All operators will be given the opportunity to run the system with the service engineer and ask any operational or maintenance questions.
For more information on a TQP please contact Christa Ditlow at Phone: 610-631-5043 x10 or email: cditlow@laserndt.com